PS(K)A: The Dark Arts
With a bit of
liquid courage
firmly in hand, I tackled the surgery on my
moebius strip which was meant to be a sweater
.
First, I basted the stitches with a bit of white thread...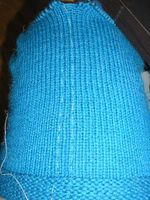 Then I crocheted up one side and down the other.
Here's the finished lines of crochet. This took about 30 minutes.
My first cut. If it hadn't been for the beer, I don't know that I'd have survived this...
...but soon I got into the swing of things, and here she is with the whole cut done. At the top of the steek, before starting to crochet down the second side of the seam, one must chain a few stitches in between - that's the purple bit which is holding it together.
Flip the offending section around, "and awaaaaaaaaaaay we go!"
I found these instructions in
Meg Swansen's Knitting
, but you can see them at
Schoolhouse Press
' web page. Thank you, Mrs. Meg!!!