Love and Basket Shawls
The Flower Basket Shawls are complete! Huzzah! Huzzah! There is much rejoicing in the land of Ice and Snow.
But how, you may ask, does one go from this:
to this?
Well, grasshopper, the process is quite simple. Once the knitting is complete,
start with a good soak in tepid waters:
Eucalan is the Coolest Thing Ever for your knits. It makes them soft and luscious. No lie.
Add one dose of pinning and stretching across any large surface:
These could have been stretched much more intensely - this is only a semi hard block as I can't find most of my pins.
This is greatly helped by turning on the electric blanket underneath the covers and adding a high dose of the fan.
Now, we wait. This part of the process demands sustenance:
Artfully prepared collard green & mushroom salad with Boy-O. I'm so glad I taught him to chiffonade!
Then we wait a little more. But finally, the lovely shawls emerge, ready to hit the wedding runway:
For scale. (Yes, I know it looks scary on my bright red couch. Ignore that.)
I may have a new obsession coming on - I'd forgotten how much I adore lace.
However, this resurgent desire will have to wait, because here I am publicly committing to a project once again. I got this in my in box the other day: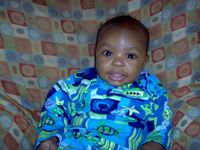 The adorable Jaden Johnson. Everybody now: Awww.
A friend of mine sent me many many adorable shots of his son: this is a tiny portion of the cuteness that is Jaden (I wonder how long til he starts calling him J-Dog?).
Anyway, when I'm done with my wedding stuff, this little sweetie pie will definitely receive something handknit, as will baby Will. I am perusing my Debbie Bliss collection now.
But next up: Delphine Along action! Stay Tuned!