Someone Left The Cake Out
I love
Donna Summer
. I really do. Anyone who could make disco
that
fun is all right with me.
But it wasn't
MacArthur's Park
that called to us; instead, we visited lovely Loring Park in the midst of an all-too-brief string of golden days.
(Mary in Boston - these are for you!)
Just across the street from Loring Park is the Basilica of St Mary, home to the biggest annual
drunken party
street festival sponsored by a church...
The
Walker Art Center
and it's giant new addition. I can't say that I
like
it, exactly -- we sorta think it looks like a wadded up Kleenex -- but it definitely makes a Statement.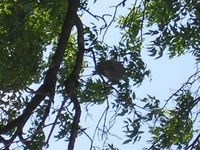 This lump of feathers in the tree (look closely) is actually a beautfiul crane. We weren't fast enough to catch it in flight.
Lovely, lovely gardens. I adore this park.
This is my picture of the Loring Park dandelion sculpture...
And these are the hubster's. This is why
he
is the family photographer, and I stick to the knitting. ;-P
You can't see it, but I am knitting away on the red side-trip tank. I ran out of yarn briefly, but was saved (!?!?) by a yarn sale. But that's another post...