Pho Real
So I decided to take
Julia's
advice, and make an especial post as one who is also left behind by the MDS&W crowd. [I may be the only one in the blogosphere who is genuinely glad
not
to have gone to this event, but there you have it. I like my bed (and my boy) far too much to want any more travel just now.]
First, OKC: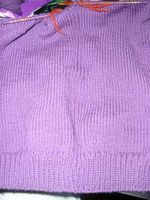 Tank top progress. Just about 20 rows shy of the armholes. I've got to finish this bit today so I can demonstrate some new techniques to my students in tomorrow's class.
So what did I do with my Saturday? The Boy-O & I went out and planted trees along the
Midtown Greenway
.*
All the volunteers at the Hiawatha Ave (end of Phase II) site. Hubbo's on the near left.
This is the 4th annual planting day, but the first to really focus on this part of the trail. It was pretty exciting to be a part of it -- and also a heck of a lot of work!
But just check out the results:
Our beautiful handiwork. I'm seriously proud of how much was accomplished in less than two hours!
After all of that exertion, of course, we went out for
Vietnamese
to celebrate.
Such a cutie pie. Even though he hates my snap-happy nature, he loves me. And I think that Pho (beef & rice noodle soup) easily qualifies for Best Meal Ever. not just because we were starving, but because it was so perfect. We'd never tried it before, but we'll definitely be going back to that restaurant. Although the hubster is still wondering about this:
The men's room mirror @ Pho Tau Bay. I have *no* idea what the hell that's about.
* The Greenway, for those unfamiliar with it, is a former railway corridor that has been transformed into a cycling/walking path through Midtown Minneapolis. It is 2/3 complete, and when finished, will stretch all the way across the Mississippi River to the edge of St. Paul. I am on the Board of Directors. It is our fervent hope that St Paul will help conect this trail to others in the area.